C N' P

Created by:

Alexo670

Directed by:

Alexo670, Sandman ( Summer 2012- December 2012)

Voices:

Release(s):

May 24, 2008 - Present

Running time:

10 minutes (Average)

Number of episodes:

45 (2 Animated specials)

 
C N' P, also referred to as Chad N' Peter, was a Halo machinima/ Animated comedy series; created by Alexo670. The first pilot episode, originally titled "Coke N' Pepsi" was released on May 24, 2008. After a brief run on Halo 3, and slight legality issues, the show was reformatted for a new season, with new characters, and more developed story lines.
After running 8 years, the show ceased production in 2016, due to funding, and reduced producers to edit and build the actual show. While Alexo has stated the show is on hiatus for a time, over 30 episodes of CNP exist in post production voice work, footage of various episodes done in cartoons and Halo 3, Halo Reach, and Halo 5. including concept and multiple versions of the rumored true finale of the series, CNP The Movie, a film in development since March of 2013.

Episodes follow Teenage curmudgeon Chad 'Coke' Cola. His older, alcoholic patriarch, Peter Cola (Sometimes called pepsi, but censored as an inside joke), and Chad's weird high pitched best friend, Deuu Dino. The episodes generally take place within a school narrative, with Chad and Deuu as students in high school, dealing with peer pressures of popularity, and conformity to social norms. Other Universes and Realities of the show exist, and have been explored over time.
It was at one time the 3rd longest running halo machinima series, behind Red Vs Blue, This spartan life, and n the Chief, until Arby N The Chief made their return for season 7 of the show, from original creator Jon Graham
C N' P THE MOVIE is set to be a Halo Machinima/ Halo Animated Motion picture in production since 2013. It will be the longest machinima production Alexo has ever attempted, and has been teased as a possible conclusion to the series.
Also see Alexo670
Development
Edit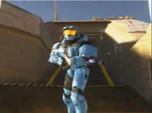 In late 2007, Alexo670 had made machinima with help of few friends online. One day, while talking to C N' P Co-creator, Sandman, they began to talk of an online internet series with duo personalities. An ignorant character, usually getting into mischief, paired along with a smart character, who shows no problems up until something goes horribly wrong. The idea eventually died out after a while, and was forgotten.
Early April had come around, nearly three months after the dormant machinima idea from Alexo and Sandman. Alexo had thought of a new idea, with same character personalities, with a slight adjustment to the cast of characters on the show.
Five months of thinking about it had gone by. Alexo had decided to give it a go and make just a short of what the real thing would be like. With the positive reaction given by just a short trailer alone, the first pilot episode of C N' P was released on May 24, 2008.
Name change
Edit
During Coke N' Pepsi episode five's development, Alexo was contacted via email by an official of Pepsi corporation, stating Pepsi's plans to file charges against Alexo in court for using there brand name and Logo associated with vulgar language and suggestive themes. To avoid this, Alexo simply changed the name, and Pepsi's name to Peter. Thankfully, no suit was filled, but Alexo had said how disappointed he was by the gesture, considering all he drinks is Pepsi products.
As of 2013, Alexo himself has begun to question if it was legitimate that pepsi emailed him, claiming it could have been trolling from internet haters at the time. No official word from pepsi was released on the subject, but Alexo has said it was the best thing to happen to the show. (Name problems could have arose in the future)
Characters
Edit
Coke

Peter (Often referred to as 'Pepsi')
Dew
Net (Retired Character) (Brief cameo in C N' P #3 part 1 & C N' P 6 YEAR EVENT)
Ted (Retired Character) (Brief cameo in C N' P 6 YEAR EVENT)
Richard 'Dick' Tan
Ciara Mist (No appearance since C N' P season 1) CONFIRMED FOR C N' P THE MOVIE
Popular Girls (Random pink and yellow spartans)
Mr. Sinister
Ms. Bitch
Pookie
Suzy (Only Appears in C N' P: Jobs)
The original pilot series never successfully set a story line upon itself. For the most part, characters were just thrown into a random scenario, and the outcome was positive. However, people at this point had started to wonder if the series would ever set in a story or add a dynamic twist to the characters and the way they interact.
When C N' P began, the viewer was then thrown into a new type of series. Rather than a random scenario with all the characters, you follow Coke through his years in high school. The big adaption into a school setting was something that Alexo had always wanted to do. The ideas were over the top and would prove for comedy. Also Alexo began a series of rants in which Coke begins explaining about things that concerns or annoy him.
Series name/ Similarities with colors
Edit
Most people tend to wonder where Alexo even considered the idea to name his pilots, "Coke N' Pepsi." After being asked, Alexo had said that it was really just because he was bad at naming characters. The series today however (C N' P) was changed due to legal reasons (See 'Name Change' above).
Others have suggested that the name Coke N' Pepsi had been ripped from Red vs Blue, the popular machinima series which uses the same basis of colors in its name. However, Alexo and Sandman have denied this statement saying "If your calling us a rip off because of colors, then you might as well say the halo 3 ripped off all the terminator movies because master chief looks like a robot."
Most people can agree that RvB and C N' P similarities end with the colors. Due to RvB being set within the actual narrative of the Halo universe, and mentioning that master chief is a real person to them. While C N' P is within its own timeline, not bound to halo, being set in current day pop culture, and using subjects relative to today's people, and making comedy from that. C N' P has even gone as far as to mention the people claiming they've "Ripped off RvB" even though the shows are drastically different, and most who complain about the slight similarities haven't watched either series.
For C N' P's origin, please read above in the Name change section.
Season 4: The Jump to Animation.
Edit

Season 4 of CN'P is so far the first Halo machinma to become an animated series. All the characters are different from their Halo incarnations such as Chad, who is short with a square head; Dew, who has a long, snake like neck, and is 4 times Chad's height, and Peter, who is taller than Chad, has 'Goku' like hair, and a scruffy beard.
Critical reception came from a lot of CN'P fans. Most people had identified with the show simply because it was Halo. Alexo had expressed that the CN'P cartoon series has been an idea since 2009, making it even older then some of the most iconic episodes that define the show. Some were ultimately split. For a long time, Alexo said there would never be another Halo episode. The second short release
d on Christmas 2012.
As of November 14th, 2013, it has been confirmed that no new animated episodes will be released for the foreseeable future.
C N' P: THE MOVIE
Edit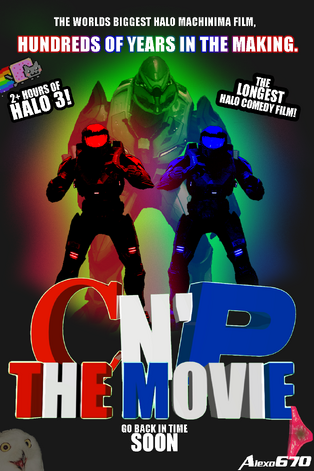 On May 19, 2013, after a long hiatus, Alexo gave a little teaser of what is to come for the CN'P series on his Facebook page. And on the next day, Alexo revealed that a CN'P movie is in the making in celerbration of the 5 years he has been making CN'P. It is going to be a flim in Halo 3, continuing right after the 4th episode of the first season. It was also revealed that fans can help out with the film. Fliming began on May 24 and it was supposed to start filming again on May 26, but Alexo was sick that day, so it was postponed to June 1. It is required by all fans that they need all of the map packs from Halo 3 to be invited to the film.
After another hiatus, Alexo returned with new episodes of C N' P in halo, and is still working on the film as of Feburary 2014. Some details on the film have slipped as the release nears, all of which include;
-The Movie is about time travel. The teaser poster, and explinations from Alexo all point to time travel being a key concept.
-The Movie centers around the entire existence of the C N' P series, and may explain the non-linear time line (Pilots to Season 1, Going from Halo to a cartoon).
- The film will explain where sierra has gone.
-The Movie is said to be over 2 hours long, making it one of the longest Halo Machinima films released on the internet.
-The Movie may shed light on Chad and Peters Parents
-Richard is the main villian.
-The film will use more then one Halo.
Alexo hasn't placed any relase dates, and says editing has become a nightmare, but the film release is being tied over with brand new C N' P episodes.
Halo Animation in the FilmEdit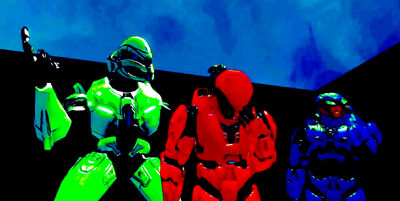 On May 24th, 2014, Alexo hosted a live stream for all the C N' P fans. There, he streamed for 23 hours for C N' P's 6 Year anniversary, and announced C N' P the movie will incorperate source film maker and 3D animation. Just for select scenes and motions within the film. Halo will still be used, but  alexo stated
'I wanna get it right the first time, you only get to call something "The Movie" Once'.
As of 2017, the film is still in production. No date for release has been set since 2014. With the hype of the release already built up, and previews of the concept shown to the public in 2013, it is becoming one of the most awaited machinima projects in the last Decade of the genre.
Machinima.com, The New Batch of CNP, Even Darker Humor (2014-2016)Edit
After a hiatus of the series for a half year, CNP returned to Youtube in January of 2014 under partnership with machinima.com. With releases every other week for the next 2 months, people were enjoying the new episodes of the show, as if it had never gone away. With the release of the new episodes under machinima, many thought the shows crude humor, and fowl jokes would be ripped away for a more toned down version of the show. This was not the case, as some of the episodes released during this time would become some of the most controversial episodes of the entire series. Episodes of the earlier show were written mostly by Alexo, at a very young age. By 2014, Alexo had finally grown up, and began to steer the shows humor and underlying subjects into another light, unseen in Machinima narrative.
An example includes the 'Hi Colorado' Episode, where the gang went to Colorado, a state in the Continental United States, to prevent people from doing marijuana (Cannabis). In 2014, the State was the first of two states to legalize recreational use of the drug in the states boarders, however, under federal US law it remains illegal. Ms. Bitch is seen giving pamphlets to the class, that show figures saying 'Pot Killed ONE BILLION PEOPLE LAST YEAR' and other outlandish claims. Deuu and Chad after school, are convinced by peter (Who is Determined to get to colorado for the new laws) to fly there. After crash landing in the state, The characters come across a man outside of Denver. The man explains how everyone is high, but the crime rate is down, and production is up, and taxes are helping people, also informing the crew about the use of Hemp as a resource, and how the forefathers of the united States Grew the cousin plant of Cannabis. The end of the episode, it is revealed that the entire oxygen supply in the state has been taken up by the smoke, and the characters experience a euphoric reaction.
The episode was generally written off as a gag, but brought a very serious topic of discussion into the light of the fan base. Deuu even encourages the audience to discuss the topic with others, and how obviously no one should be forced to use such a drug. But the narrative brings forward the discussion of Miss information. Challenging what over half the population of the United States, Consider a failed Drug War for the last five decades, and doing it in a quick, satirical manner, to not seem pandering to one side of the argument.
Another Controversial CNP was 'Fix News Out Takes', which was a parody of major new orginizations like Fox News, CNN, and MSNBC. The episode was one of the few CNP episodes to use racial humor, politics, media bias, and the destructive nature of a 24/7 news cycle that only reports for profits.
Many were quick to call Alexo a 'Libtard' with the release of the episode. Barack Obama was referenced as the Anti-christ many times in the episode, which has been a term some Americans have related to people in the conservative movement, who do not support Obama's policies. Obama is also covered as a topic by the news cast because he 'Said the word black'. A clip shows Obama referencing he had his Black Cars parks outside of the white house, and the pundents are quick to make it into a racial reference, specifying how they have never used that word in their lives. The a joke is played out to show the media takes insignificant parts about stories, and blows them up into huge issues, sometimes to keep people entirely distracted all together. Because of the satire, and general subjects it was able to cover, the episode is considered by many fans, one of the Best CNP episodes of All time.
2018 Return for 10 years
Edit
After producing the shows return for 2017 during the third quarter of 2016, Alexo suddenly disbanded the CNP series. Not much information is available to why this happened, Alexo has cited his mental health and personal life affecting production, and putting it on the back burner. In August of 2016, he announced the show would be retired for a time.
On October 20th, 2017, a new CNP logo was shared by Alexo on his twitter, saying the show would be returning in 2018. No further details are known at this time. 2018 also marks the 10 year anniversary of the show.
Seasons and Specials
Edit
The Halo Used                                 Years/Episodes
Halo 3 -                       Pilot Season: (2008) 4 Episodes
Halo 3 -                    Season 1: (2009-2010) 4 Episodes
Halo Reach -             Season 2: (2010-2011) 3 Episodes
Halo Reach -            Season 3: (2011-2012) 10 Episodes
Cartoon -                          Season 4: (2012)  2 Episodes
Halo 3 -                            C N' P DX (2013) 1 Special
Halo Reach -                           2014 (2014) 10 Episodes
Halo 3/ Reach/2 Anni.               2015 (2015) 7 Episodes (+ Halo 3 Anniversary Special)
Halo 2/3/Reach/ 5                    2016 (2016) 6 Episodes (6  More Including B& 2 and Halloween II)
Halo 3 -                         CNP Retro  (2017) 20+ Episodes (The possible Ending of the Series, Releasing all of 2017)
C N' P: THE MOVIE (2018?) 
External links
Edit
Ad blocker interference detected!
Wikia is a free-to-use site that makes money from advertising. We have a modified experience for viewers using ad blockers

Wikia is not accessible if you've made further modifications. Remove the custom ad blocker rule(s) and the page will load as expected.