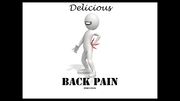 Delicious Back Pain Productions, is a Machinima production group made up of Jack MX9, Wasua, and Shortiefish77. Their main Machinima, is called, Total Failure.
Machinima
Edit
Currently, they have two running Machinimas. The first is called Total Failure. It revolves around three soldiers in the middle of nowhere, guarding nothing. Their second Machinima, is called Wake. It's about a teenager who lives in a city full of monsters, and his experiences trying to save the city.
External Links
Edit
Ad blocker interference detected!
Wikia is a free-to-use site that makes money from advertising. We have a modified experience for viewers using ad blockers

Wikia is not accessible if you've made further modifications. Remove the custom ad blocker rule(s) and the page will load as expected.