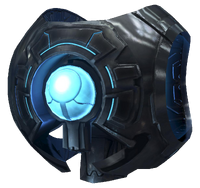 Halo Machinima Wiki is a wiki hosted on the wiki-hosting site, Wikia. It was created to display various Machinimas in a encyclopedic manner.
Halo Machinima was originally founded on October 18, 2007 by a user named Deekor. Though, shortly after, Deekor has gone inactive, and the wiki was left without any administrator or moderator. With that, users Nemesis645 and ThunderCavalier were promoted to administrators to maintain the wiki. With that, a new policy was made, and it became strict about what Machinima's are allowed on the wiki, stating that the Machinima had to be popular and well known to achieve a page. Not long after his promotion, Nemesis545 had gone inactive, leaving ThunderCalavier to run the wiki alone. ThunderCalavier stayed with the wiki until 2010, when he suddenly went inactive as well. The wiki was once again left without any authority.
In December 2011, the wiki was finally adopted and taken over by users Oo7nightfire, Zeon1 and Jman98. Oo7nightfire was promoted to Bureaucrat, Jman98 and Zeon1 were promoted to administrators. Since then, the wiki has become less-strict about what Machinimas go onto the wiki, and have turned the wiki into a democracy, rather then it's previous dictatorship.
Ad blocker interference detected!
Wikia is a free-to-use site that makes money from advertising. We have a modified experience for viewers using ad blockers

Wikia is not accessible if you've made further modifications. Remove the custom ad blocker rule(s) and the page will load as expected.