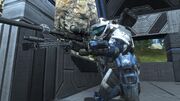 Machinimaray is a team of people that are creating the new Machinima, "Vs. Purple".
Before Halo Reach
Edit
Before Halo Reach came out, Machinimaray made a Halo 3 Machinima called, "Red vs. Blue Assault". Machinimaray quickly deleted the Episode because they thought it would get horrible reviews. When Bungie announced the new Forge World, Machinimaray quickly thought of a way to make a Machinima out of Forge World.
Vs. Purple 2010
Edit
After two months of planning Machinimaray had started writing the first episode of Vs. Purple. One of the writers wrote up to 5 episodes and then they waited for Halo Reach to come out. Mikhail Davis and Talon Branch created the Purple Base. It took them about 4 hours to make. Mikhail Davis created the R&B Base. They recorded the first episode and posted it.
Machinimaray created a Christmas Special, some people might think it doesn't follow the story, but it kind of does follow some of the story. By the end of February, they had created 8 episodes. Subscribers were low, but the views were rising and rising by the day.
Now Machinimaray is more famous than the last time they posted something. They gained over 200 subscribers. They get around 1,000 total view per day. They also have made over 80,000 total views.
Machinimaray has completed their first season of Vs. Purple. At times, Machinimaray would say they release an episode, but never would. They did this many times, but in the end Season 1 was completed. As of 2/6/12, Machinimaray has 248,895 total view on all of there videos and they also have 489 subscribers. Machinimaray gets about 5,000 to 10,000 views per day.
Vs. Purple Season 2
Edit
As of 1/31/12, Machinimaray has released a Season 2 Promo. The video described that Season 2 will be released on Fall of 2012. No other information has been leaked about Season 2.
Expanding
Edit
Machinimaray would love if people would want to join in on the team. All they need is a usb mic and an xbox live gold membership account. Machinimaray will take any idea, if it follows the story. Machinimaray is on Facebook, they have their own site. Just go to www.machinimaray.com. Machinimaray is asking you right now to subscribe.
Characters
Edit
Allan White - Leader of the Blue Team
Voiced by Mikhail Davis/mikdavis55 Xbox Live
William Green - Leader of the Red Team
Voiced by Orrin Branch/Viking of Lore Xbox Live
Joshua Gilliam - Corporal of the Blue Team and best friend to Allan White.
Voiced by Talon Branch/Risingharbenger Xbox Live
Charles Metzger - Demolitions of the Blue Team.
Voiced by Drew Wagner/Offsetcypress Xbox Live
Hubert Wong - Mechanic of the Red Team.
Voiced by James Dockens/DEATH CODE X13 Xbox Live
Shaun Davis - The Recruit to the Red Team.
Voiced by Colten Cook/Fooly7 Xbox Live
Viktor Regx - Leader of the Purple Team
Voiced by Austin Smith/ Collishum Xbox Live.
Ad blocker interference detected!
Wikia is a free-to-use site that makes money from advertising. We have a modified experience for viewers using ad blockers

Wikia is not accessible if you've made further modifications. Remove the custom ad blocker rule(s) and the page will load as expected.