Shadow of the Day is a Halo Music video created by former Hollywood Halo member BlackouTT. The song used was Shadow of the Day by Linkin Park from their "Minutes to Midnight" album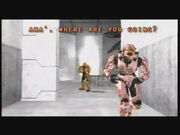 The city is filled with anarchists which are gathered up and executed by soldiers, one of these soldiers is named Trask. Conflicted with the life he is leading, his girlfriend leaves him and heads into the dangerous city. She is cornered by murderous anarchists and about to be killed when Trask saves her.
The machinima heavily uses color pass aka Sin City effect and text based dialogue, the text color of who is speaking corresponds with the color of the characters armor.
Video Link
Edit