To the Earth is a machinima created by A Mad Taco Productions and A Mad Taco himself. It centers on Elites and their lives on the Earth.
Main Characters
Edit
Oesn 'Braatee
Edit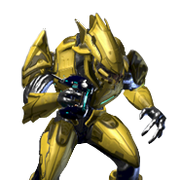 First Appearance: Episode One
Age: 1,459
Status: Alive
Rank: Gold (Leader)
Sex: Male
Oesn is the leader of sendin the elites to earth. He is golden and everyone follows his rules. He seems to be the main protagonist too. He is the oldest elite ever.
Ersn 'Braotee
Edit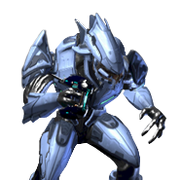 First Appearance: Episode One
Last Apperance: Episode Eight
Aged: 264
Status: Deceased
Rank: Light Blue (Recruit)
Sex: Male
Ersn is the youngest Elite to land on Earth's surface. He got killed in an accident during shopping. He was the wisecrack of the group.
Kesn 'Ichutee
Edit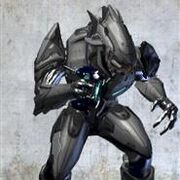 First Appearance: Episode One
Age: 874
Status: Alive
Rank: Black (Lieutenant)
Sex: Male
Kesn is a kidder in the group. But knows a lot to do about spying and things like that.
Otsn 'Sekasee
Edit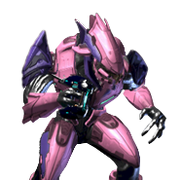 First Appearance: Episode Three
Age: 424
Status: Alive
Rank: Blue (Sergeant)
Sex: Female
Otsn is the female of the group and is a sterotypical woman. She sports red and vilot on her armor. And was always about spending a lot on the shopping episode. Even after Oesn was killed.
Onsn 'Rigamee
Edit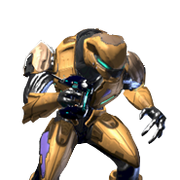 First Appearance: Episode One
Age: 1,253
Status: M.I.A.
Rank: Coral (5 Star General)
Sex: Male
Bent on world domination, Onsn is the angry person of the group. Only one rank away from gold, and has been for four hundred years. And the second oldest Elite ever. He is a rival of the leader, Oesn 'Braatee. He has been Missing in Action since Episode 19 and his fate is currently unknown as of Episode 24.
Note: Summaries only to important episodes of the series.
1. To The Earth!
Edit
5 elites go on a suicidal mission to Earth.
2. I've Grown Disgusted To Your Face
Edit
The elites find out how humans attract each other.
3. A Girl???
Edit
A woman elite named Otsn 'Sekasee comes to the earth. And the only people who don't hit on her are Onsn and Oesn. The people who are serious about their work.
4. Nobody Likes Kesn
Edit
5. Terrible Necesities
Edit
6. Desprate to Take A Breath
Edit
7. Our Work Here is Done?
Edit
8. I Don't Like the Look of That Spartan!
Edit
A spartan finds out the location of the elites. The elites blank his memory. But not before killing Ersn.
9. Nobody Has a Clue
Edit