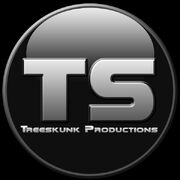 Treeskunk Productions is a machinima studio that uses the Halo 2 and Halo 3 game engines for its videos. It is the studio behind the Outpost: Coagulation and the current Outpost: Isil series as well as several other machinima shorts. Treeskunk Production's videos are predominately written, filmed, and edited by Bzerker01 (Don Preuss) and Zack Fester, the founders.
Outpost: Coagulation
Edit
The first original Treeskunk series that takes place in Coagulation canyon from Halo 2. The human base is filmed on Foundation and the Elite base on Midship. The series follows the action and drama that takes place between the two bases as well as the internal conflicts occurring on both sides.
Outpost: Backwash
Edit
The "second season" of Outpost: Coagulation that was canceled after the premiere episode because of the imminent release of Halo 3. The story took place on Backwash and told a story parallel to that of Outpost: Coagulation.
Outpost: Isil
Edit
The current series in production by Treeskunk Productions. Outpost: Isil is an extended remake of Outpost: Coagulation using the Halo 3 game engine and featuring new characters and an improved story. The complete first season has fifteen episode with a second season anticipated using the Halo: Reach game engine.
A Side Note with Paul Shelley
Edit
Side Note with Paul Shelley is a mini-series featuring the creative genius behind Treeskunk, Paul Shelley. Each episode focuses on a specific issue such as gay marriage or politics with Paul Shelley providing his caustic opinion. Common motifs are Paul Shelley's alcoholism, nihilism, and hatred of everyone.
Other Machinima
Edit
An epic, twelve-minute long machinima from Treeskunk Productions and Team Conquest about a disgraced alien warrior, Talm Lightfoot, and his bounty hunter ally Jack Steel as they hunt for a corrupt military officer responsible for the death of Talm's Village. This is the longest single film from Treeskunk and has a received many requests for a sequel.
Leprechauns
Edit
An unusual machinima creation from Treeskunk, Leprechauns is an official entry into GamingTV's "Laughs for Cash" machinima contest.